Where From You Come, Go?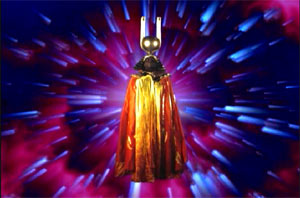 Cooler than Digable Planets, even
I am doing work today from a coffeeshop up the street rather than the office (which I do somewhat often lately). Sun Ra was playing on the stereo and this older woman came in and just started talking to the guy behind the counter:
"It's so soulful, so beautiful, you know? I mean, we've all been there, to that place."
At which point she just repeated, over and over
"He just shows us the way."
Greenpoint Psychedelic Love Massive represent! I really wanted to hi-five her, but I realized that hi-fiving is probably
not
a part of Sun Ra's plan.