The Triumph Circuit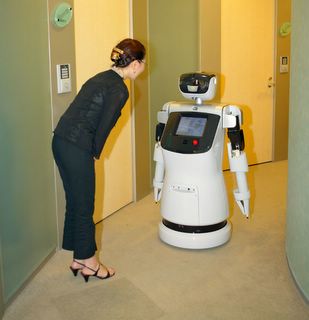 Daft Punk's publicist meets guest vocalist
"Harder, Better, Faster, Stronger" on Daft Punk's
Discovery
is a song that has had me so thoroughly knocked-out lately, that I feel compelled to document it. I've always been a Kraftwerk fan; it seems like die mensch-machine mythology that made songs like "Showroom Dummies" so incredibly moving and problematic never really got smoothed out properly. I still get pretty tearful when I watch
Blade Runner
, seriously.
Anyway, the thing I love so much about "Harder, Better..." is that I feel like it capitulates all the tensions of Kraftwerk, but concludes the narrative (or just complicates it) in a way I had never expected. Here's the scene: so, these two French guys are wrestling this robot. Not really wrestling it, which would be a waste of money unless it was direct to DVD or some pay-per-view event on
Adult Swim
or something, but they're like,
wrestling it on a spiritual plane
. The robot doesn't give up, though, it only gets harder, better, faster, and stronger with the work it has to do upholding its own robot-dignity. With each mortal multi-filter and knob-twiddle the duo attempts, they only reinforce its power. Each round, the vocal gets more dazzling and more fractured. So who wins? I don't know, because it's only the human challenge that precipitates the robot's ascention to triumph. Symbiosis! And to think that the robot has
soul
; now we're learning. If only Karl Marx could hear the joy in this song, he'd weep into his facial hair and start all over.